Communications
Posted: December 14th, 2022
Ontario Conference Staff Join in Habitat for Humanity Rebuild

Website Admin
The Website Administrator
it@adventistontario.org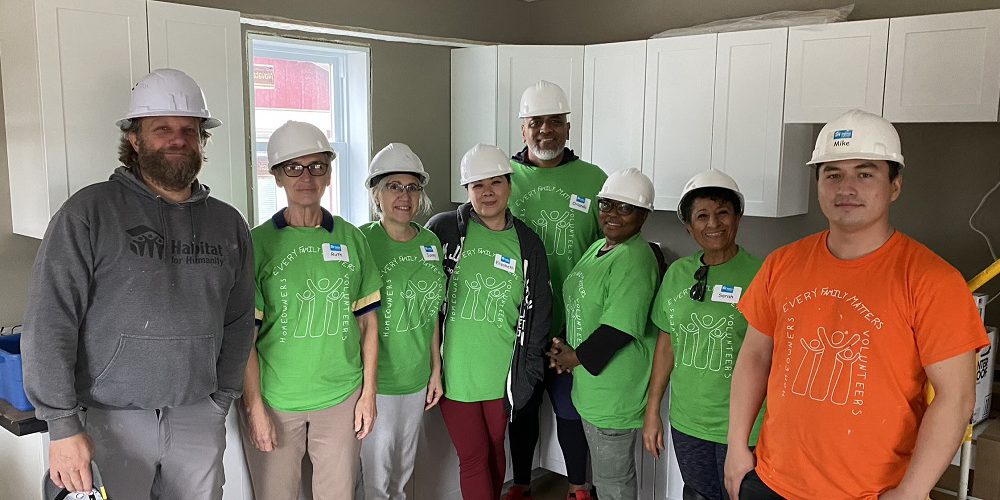 On Wednesday, December 7, 2022, a six-member team from the Ontario Conference office joined Habitat for Humanity in the building of a new home in the village of Hastings, Ontario.
Office staff, Sarah Gouda, Juvey Puranen and Ruth Weidner, along with directors, Maria McClean and Elizabeth and Orlando Pule, volunteered to spend a day painting, helping to hang doors, laying flooring and other tasks. While some team members were inexperienced in any form of construction, others quickly demonstrated their familiarity with tools. However, working on a project to directly help a family afford a home to live in made it very meaningful to the team members.
"I pictured the faces and experience of the individuals who would be occupying the residence," said Maria McClean. "This made it personal and not just a project"
"I have been more blessed to be able to serve than those perhaps receiving the house upon completion" added Ruth Weidner.
I enjoyed it tremendously," said, Sarah Gouda. "I was truly blessed, humbled and honoured. I felt like this is the type of ministry I needed."
The team became aware of the need for volunteers in Hastings after Pastor Mansfield Edwards, Ontario Conference president, having seen the advert, alerted the office staff.
"We must live the gospel," he said. "We have to do more than stay in our church buildings and preach about caring for others. We must engage with our community and look for ways to help."
He explains that after he had seen the advert, he contacted Habitat for Humanity to see how assistance could be given. A visit to the headquarters was organised and both he and Pastor Jakov Bibulovic, executive secretary of the conference, met with Melissa Morrison, Community Fund and Development Coordinator of Habitat for Humanity Northumberland, where plans were made for the team to participate. Edwards and Bibulovic surprised Melissa with a $5,000 donation from the Conference and it was gratefully accepted.
Habitat for Humanity Canada is a leading national non-profit, with local Habitats working in every province and territory across the country. With the help of these local Habitats, volunteers, and Habitat homeowners, it provides a solid foundation for thousands of families to lead better, healthier lives in Canada and around the world. Habitat for Humanity Prince Edward-Hastings invites volunteers to work together in partnership with families to provide a hand up to those who need one. https://habitat.ca/en